27.02.2018 | Adv. Ram Jeanne participated in a panel about International Disputes as part of the fourth conference of Foreign Lawyers – conducted Bar Association in Israel
Head of litigation department in our firm, Adv. Ram Jeanne, participated in a panel dealing with the subject of International Disputes , as part of the 4th Foreign Lawyers' Conference of the Israel Bar Association.
This is the largest international legal conference to be held in the State of Israel, with representatives coming from over 100 foreign law firms.
In his remarks, Adv. Jeanne addressed, inter alia, the question of when it will be possible for us to conduct a legal dispute in Israel, as well as in other forums (a foreign country or foreign arbitration) and what would be the considerations for transferring the hearing to a foreign forum or foreign arbitration. According to Adv. Jeanne, even in a instance in which contractual jurisdiction has been determined for a foreign court, and even if it has been determined that foreign law shall prevail, that is not necessarily the end of the matter. A variety of developments in the legal situation in Israel enable us, as the lawyers, space in which to maneuver vis-a-vis the place of jurisdiction and the applicable law.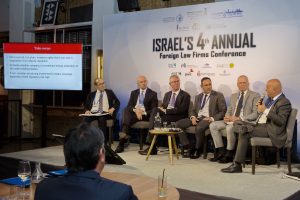 Photo by Oren Shlav

The translation was executed courtesy of Tomedes Translations