20.09.2019 | 50 years since the establishment of the Labor Courts  The President of the National Labor Courts (Ret.), the Honorable Judge (Ret.) Mr. Yigal Plitman, who is currently the Special Consultant for our firm.
The Labor Courts are now marking 50 years since its establishment. The Labor Courts include five regional District Courts, and a national Court as Court of Appeals, which constitutes 82 judges and registrars, 343 public representatives and 313 employees.
The Honorable Judge Mr. Yigal Plitman, as President of the National Labor Courts and presently Special Consultant for our firm, determined towards the end of his term (March 2018) one of the most precedential rulings – which shook the very foundations of the restaurant industry during the past year.
NII (National) Appeal 44405/10/15 Omri Kis et al – National Insurance Institute (26/03/2018)
In the matter of the Labor Law and the rulings of the National Insurance Institute, the National Court overturned its previous rulings on the matter of income from tips, and determined that income from tips in the branch of restaurants constitutes revenue for the business; and income paid as wages for work, by the employer to the 'service chain employees', whether the tip has been recorded in the books of the restaurant or not; in the absence of any other explicit stipulation, the default is that the employer is entitled to make use of the money given as tips for the purpose of paying wages only.
Coverage of presidential court rulings on the Legal Services and Information website: the Legal Authority.
At the 50th anniversary of the Labor Court, in the presence of Retired Judges, amongst whom the Honorable Judge (Ret.) Mr. Yigal Plitman.
The full coverage:
Calcalist: Strengthening employees, the right to strike, and the status of women: 50 years' for the Labor Courts.
Davar:  The workers in the Land of Israel:  Let the public judge
Globes: Golden jubilee for the Labor Courts: more rights for workers, more transparency in labor relations, less discrimination.
Israel Today: The Labor Courts harm the struggle against the cost of living.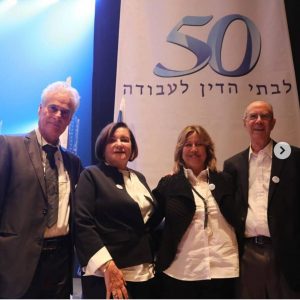 בתמונה:
מימין לשמאל: נשיא ביה"ד הארצי לעבודה לשעבר, השופט בדימוס סטיב אדלר; נשיאת ביה"ד הארצי לעבודה, השופטת ורדה וירט-ליבנה; נשיאת ביה"ד הארצי לעבודה לשעבר, השופטת בדימוס נילי ארד; נשיא ביה"ד הארצי לעבודה לשעבר, כבוד השופט יגאל פליטמן.
(צילום: אינסטגרם Israel_court).
The translation was executed courtesy of Tomedes Translations