21.06.2017 | AYR Continues expending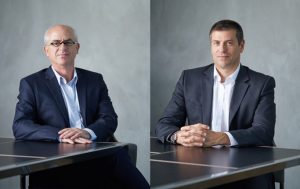 Our firm is expanding its ranks with the addition of Adv. Gadiel Blusztein, who is joining as a partner in the Commercial Department, where he will broadening the international operations of the Department. Adv. Blusztein resigned from the offices of Blusztein, Bar-Kahan, Zigenlaub and joined our firm, together with Adv. Amit Briger and a team of 5 other lawyers. Blusztein has extensive experience in the fields of commercial law, companies, international transactions, investment banking, the capital market and provident funds.
Blusztein represents foreign entities in Israel and around the world, among which the Austria Liberty Tourism Corporation which has 55 branches worldwide, as well as the Platano Hotels company of China, the Hellenic Bank and other foreign companies. Moreover, he represents international Indian companies.
Adv.y Omer Gadish has also joined the firm, and he manages the firm's Real Estate Department. The Real Estate Department in our office is one of the largest and foremost Real Estate Departments in Israel, and handles a wide range of clients, including a number of the market's leading Real Estate companies. Until recently the Department was headed by Adv. Rami Zelko, of blessed memory, who was one of the founders of the firm, and passed away after battling a serious illness.
Gadish came to the office from the firm of Cohen Wilchek & Associates, where he had served as a partner since 2003. In the offices of Cohen Wilchek he concentrated the field of lands and real estate, and engaged in complex, large-scale real estate transactions, liens, collateral, loans and real estate taxation. In addition, he was involved in civil and commercial litigation, corporate recovery, liquidation, freezing proceedings, receivership, and handling bankruptcy proceedings.
The firm of Amar Reiter Jeanne Shochatovitch & Co. presently has close to 100 Attorneys and specializes in commercial litigation, class actions, commercial and corporate law, real estate, communications, infrastructure, planning & construction, and more. Recently Adv. Sharon Kohane, one of the senior officials of the Tel Aviv Prosecutor's Office, was recruited.  Kohane established the Department of White Collar Crimes in the firm. Judge (Ret.) Professor Oded Mudrik acts as a Special Advisor to the firm.
Adv. Amir Amar: "The fact that Gadi, Omer and Amit have joined our ranks continues the firm's trend of expansion, and strengthens the core areas in which our office is engaged".
The translation was executed courtesy of Tomedes Translations.