13.04.2021 | Collaboration between competitors in tenders – our firm hosted a webinar for legal counsels, which examined  the implications of the law in the mirror of economic competition, litigation, corporate law and infrastructure
Our firm hosted a webinar in collaboration with the ACC Israel (Association of Corporate Counsels) on the subject of 'Cooperation Between Competitors in Tenders', in which the implications of the Economic Competition Law, Commercial Law, Infrastructure and Litigation were examined.
The webinar was attended by Adv. Oded Gross, a partner in the Commercial Litigation Department; Adv. Assaf Lapid, a partner in the Corporate Law Department; Adv. Gali Friedhof, partner in the commercial litigation department, with expertise in accompanying projects and infrastructure; Adv. Gal Rozent, owner and founder of Gal Rozent – attorneys, expert in competition law.
For coverage: dun's100>>;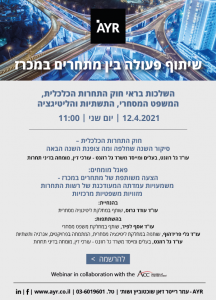 Yedioth Aharonot: