10.01.2021 | 'Emily in Paris: culture struggle, fashion war, and the wonders of Instagram'; Adv. Rachel Zilberfarb-Shreiber in a panel of experts on behalf of the Faculty of aw in Bar Ilan University
The Law Faculty at Bar Ilan University will hold a fashionable panel on January 28, 2021 on law, culture and social.
Adv. Rachel Zilberfarb-Shreiber from our Commercial Law Department, who specializes in intellectual property, will participate in the panel and present aspects of fashion laws – the legal challenges involved with collaborations of fashion brands.
The panel is moderated by Dr. Anat Peleg, a communication researcher and Director of the Center for Media and Law at the Faculty of Law, Bar-Ilan University, and will be attended by Prof. Galia Yanoshevsky, Head of the French Culture Department of Bar Ilan University, Dr. Osnat Roth-Cohen, a senior lecturer in Ariel University and marketing communication researcher; salutation: Prof. Ariel Bendor.
To enroll and for more details:https://bit.ly/39dgtdS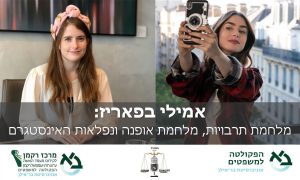 The translation was executed courtesy of Tomedes Translations