30.12.2020 |  'There is a vaccination against the Coronavirus but not against class actions' – a webinar for legal counsels about class actions and how to avoid them, led by Adv. Alon Sukenik
Our firm held a webinar (online seminar) for clients and legal counsels in conjunction with ACC (Association of Corporate Counsels), led by Adv. Alon Sukenik, and with the participation of Adv. Yael Shoham.
The webinar explained what a class action is and the terms for certifying it and instilled recommended practical principles to reduce risks for a class action of millions of NIS.
To the presentation: Class actions and how to avoid them – December 2020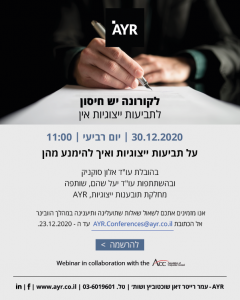 The translation was executed courtesy of Tomedes Translations