09.12.2020 | "Valentino Valentino: the fashion designers fight for their reputation at court"/ Adv. Rachel Zilberfarb-Shreiber from our Corporate Law Department for 'Haaretz'
The combat of high end Italian fashion designers Valentino Garavani and Mario Valentino approaches legal resolution. Does one copy from the other, what was signed 40 years ago between the original "valentino's", and why is it not always good for you reputation to precede you?
Adv. Rachel Zilberfarb-Schreiber from our firm's Corporate Law Department in an article to 'Haaretz' about the high-profile (and very fashionable) dispute of Valentino v. Valentino – fighting for reputation.
To read: Valentino Valentino: the fashion designers fight for their reputation at court;
To read as PDF – (without pictures)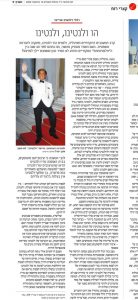 The translation was executed courtesy of Tomedes Translations